Are you eager to discover and expand new paths, higher and further than ever before with your e-bike? With our mountain bikes, only amazing mountain scenery can keep you going. Our mountain bikes with powerful mid-mounted motors and lasting batteries provide you with power and no limits for going up and down hills.
Advantages of E-MTB
Stronger, safer, more comfortable. The mountain bike has a front shock absorber system, which effectively reduces road bumps. Professional tires increase grip and adapt to any terrain. With more transmission gears, you can find the best fit for your riding experience in any situation.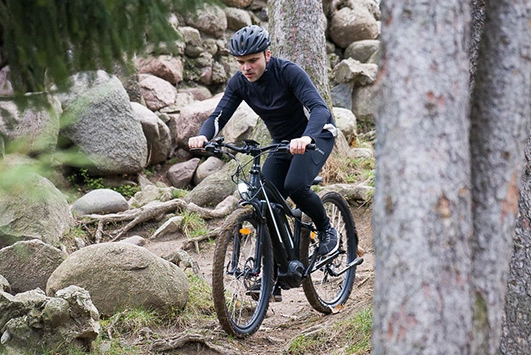 Resolve Physical Differences between Riders
Electric mountain bikes help overcome power differences between riders of different abilities or fitness levels. The electric motor allows them to ride at a pace that suits their abilities. Thanks to the electric support, everyone can ride together without worrying about leaving slower riders behind or struggling to keep up with faster riders.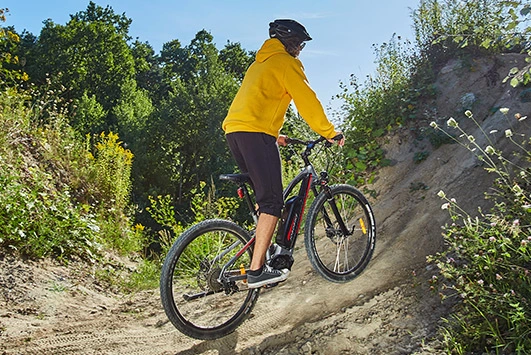 Manage Load Effectively during Riding
Even the best riders struggle to maintain speed up the hill and get tired on some long steep slopes, but no problem now. When you reach the top of the mountain, you still have enough endurance reserves for downhill. Summer is not as sweaty as before, and winter is no longer "hot and cold".
Are mountain bikes more prone to flat tires and air leaks?

It is true that the complexity of the terrain increases tyre wear and tear, but professional mountain bikes are made with more hard-wearing blast tyres, which can reduce tyre damage from wear and tear. Of course, it is also important to take care of them.
Why do mountain bikes need more derailleur gears?

Mountain bikes are commonly fitted with higher gears as the terrain is complex and the gradients vary greatly, so we need to adjust the gears to achieve speed control.
How to check your mountain bike is safe before you ride?

Starting with the front axle of the bike, check the spokes, screws, headset bowl set, saddle, etc. and work from front to back until you find that they are all in proper working order and that there are no loose or poor condition problems.