Our mission
To provide an incredible biking experience created
for modern lifestyle at competitive prices.
Winter holidays in the era of inflation. How to spend them actively and not spend all your savings?
Winter holidays for the inhabitants of some provinces have already ended, but most of us are still waiting for free days, planning them so as to make the best use of time. Unfortunately, in the era of constantly rising prices, not everyone can afford long trips or popular winter sports, such as skiing or snowboarding. If you are looking for a new way to spend your free time pleasantly in winter, this article is just for you!
People who prefer a warmer climate and have so far gone on trips to warm countries during winter holidays may also be forced to change their plans. The prices of all-inclusive trips in 2023 increased by about 300€ compared to the previous year.
So how do you use your free time to relax and stay active at the same time? Bet on trips on an electric bike!
Saving
Active spending of free time does not have to be associated with high expenses. To ride a bike, you need your two-wheeler and equipment, such as a helmet and appropriate clothing to protect against cold and moisture. However, these are reusable items that you can use for several years. Bicycle paths, forest paths and dirt roads are available - unlike the ski slopes - completely free of charge. What's more, you can enjoy cycling everywhere, even in your place of residence. Even more so when your two-wheeler is an electric bike. An e-bike will allow you to cover more kilometers in one trip. Thanks to this, you will discover new places. You'll be surprised how many of them are relatively close to your home! You don't have to spend money on getting to a popular destination, accommodation and food in restaurants. With an electric bike, amazing adventures are right next to you!
Active sightseeing
But what if you prefer to go somewhere more than 50-100 km from home? All you have to do is pack your backpack, take your beloved bike and before choosing a train, it is worth making sure that it is possible to transport bicycles on it. And once you reach the starting point of your new cycling adventure, there are various trails waiting for you. With an electric bike, even during winter trips, you don't have to limit yourself to asphalt roads for bicycles. Especially if you own an electric fat bike like JOBOBIKE ROBIN, JOBOBIKE EDDY or JOBOBIKE EDDY X. The 4-inch wide tires help you get through mud and deep puddles. On steep climbs, you can count on the support of the 250W motor. Get carried away by cycling madness and allow yourself to try routes that you would never choose if you had only a traditional bike at your disposal. E-bike gives you more possibilities. Use them!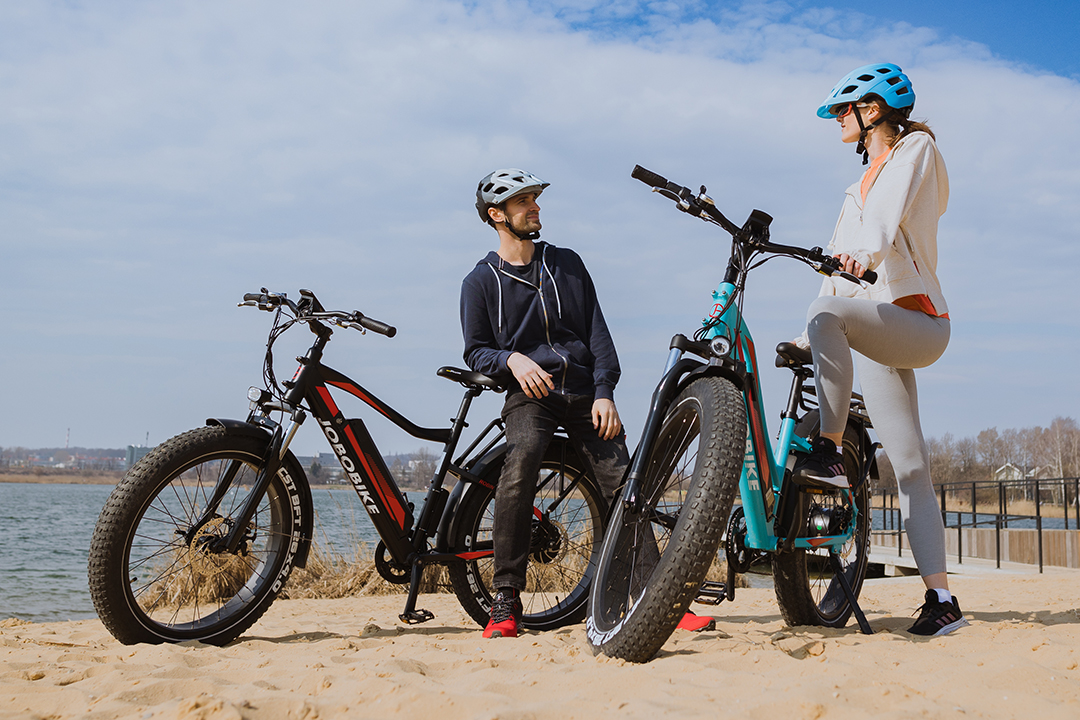 Beautiful scenery
Alone or in the company?
Cycling tourism is a sport both for the souls of the company and for people who value peace, quiet and solitude. It's up to you whether you go for a ride alone or invite your friends.
Riding alone on difficult trails is a great time to calm your mind, de-stress and enjoy the silence disturbed only by the sound of the wind and the chirping of birds. In winter, you won't meet many other tourists on forest trails. Roads are often impassable for people using traditional bicycles. For you, when you drive an e-tank, they are only a new challenge. Therefore, on a bicycle trip, you can find the peace that cannot be obtained by skiing or snowboarding on a crowded slope, which is also associated with waiting in a queue for many minutes to the lift.
Bicycle trips are also great entertainment for families. Now you can get your grandparents involved too. It is enough that they will be able to cover the next kilometers of travel on an electric bike. The ability to choose the right level of support will make it effortless to keep up with their children and grandchildren. A joint, intergenerational bicycle trip will bring you closer to each other and guarantee a nice time. Grandparents will certainly feel even more loved and needed after it. For the senior, choose a bike with a low frame, such as the JOBOBIKE SAM, JOBOBIKE LINDA or JOBOBIKE LYON.
Be open to the new
We realize that changing your habits and plans is not easy. In the face of rising prices, it may be necessary for many of us. We hope that we have convinced you that investing in a good electric bike, as well as spending free time during winter holidays on bicycle trips, is a great alternative to popular winter sports and holidays abroad. Try to open yourself up to new experiences of using a modern e-bike, and we guarantee that you will spend your free time with a smile on your face and a dose of additional, positive energy. See you on the bike trails!